Beschrijving
Black Diamond 3hole Grips Bear KompleX
Met trots presenteren wij de Black Diamond 3hole grips van Bear KompleX, deze zijn evenals de vaak gedupliceerde maar nooit geëvenaarde Carbon grips van zeer hoge kwaliteit. De Black Diamond grips zijn de plakkerigste en aller beste grips ooit ontworpen in cross training. Vervaardig uit een synthetisch materiaal, zijn deze Diamond grips ideaal voor gepoedercoate bars. Deze grips zijn ideaal voor vele gymnastic en weightlifting workouts. Andere grips hebben vaak toch nog magnesium nodig, de diamond grips zullen magnesium niet eens vasthouden en maken magnesium dus echt overbodig.
Product omschrijving Black Diamond 3hole Grips Bear KompleX
Vervaardigd uit een licht gewicht en plakkend Black Diamond materiaal
Ontworpen met een zachte bescherming rondom de pols
Beschermen jouw handen tijdens de workout
Duurzame 3 dubbele stiksels voor zekere support en stabiliteit
Verminderd het glijden op de bar voor extra zekerheid
Geen magnesium meer nodig
Welke maat moet ik hebben?
Zoek uw hand / pols-verbinding. Dit is waar je hand en pols samenkomen (je zou daar een gevouwen lijn moeten zien). Dit is het punt om te beginnen met meten.

Zorg ervoor dat de hand en vingers helemaal recht en plat zijn. Buig de hand NIET en strek de vingers NIET naar achteren.

Meet vanaf de pols / handverbinding (waar u de vouw ziet) tot de basis van uw middelvinger. Wees precies en rond niet naar boven of beneden af.

Val je tussen twee maten kies dan de grootste maat.
De grips zullen lichtelijk oprekken, maar dit zal geen maat verschil maken.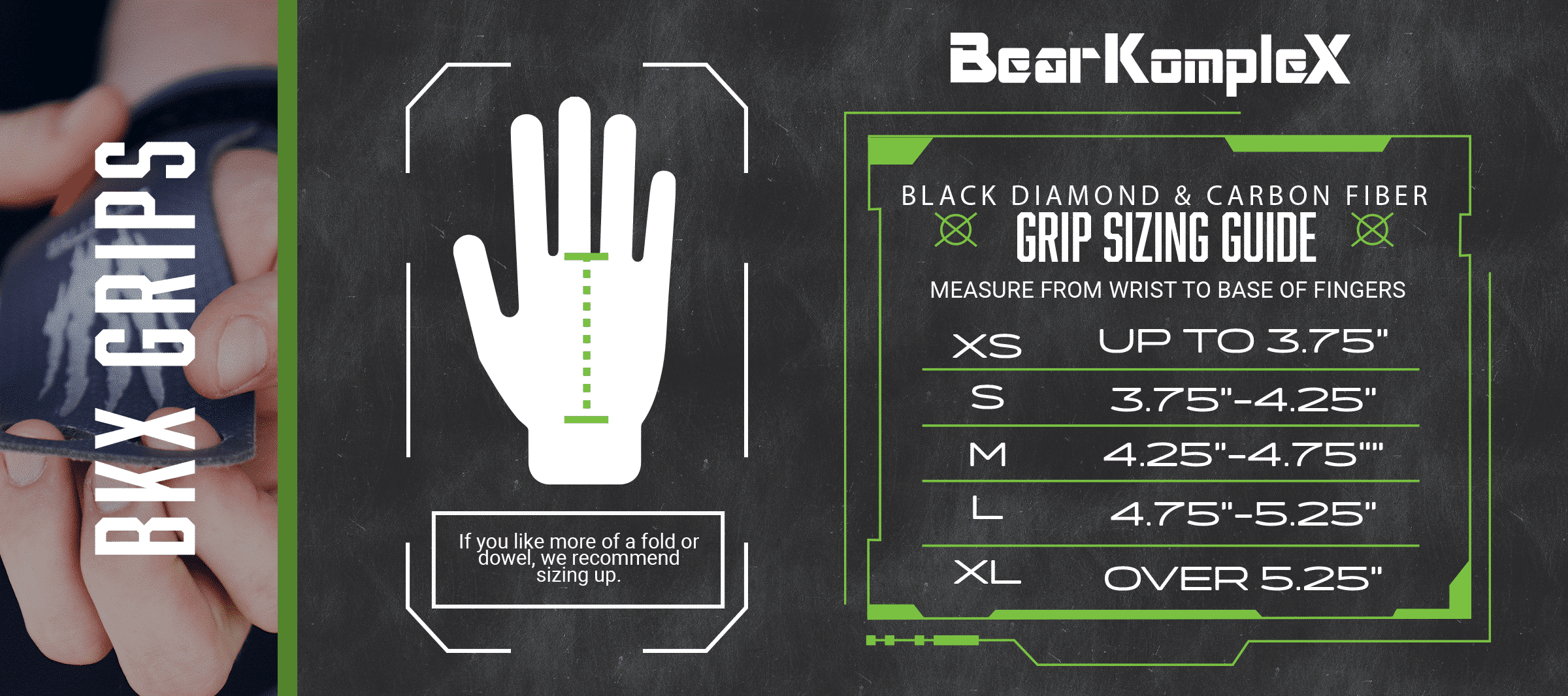 !Let op!
Gebruik de grips pas als je zeker bent dat de maat juist is, gebruikte grips of grips met magnesium sporen kunnen niet geretourneerd worden. Plaats uw middelvinger en ringvinger in de gaten en pas de klittenband comfortabel om uw pols aan. Je zou je hand bijna helemaal moeten kunnen openen, zodat het leer plat in je hand ligt.
Black Diamond 3hole Grips Bear KompleX
From the company that brought you the often imitated, but never duplicated, Carbon Fiber Grips, Bear KompleX is proud to announce our new Black Diamond Grips.
The Black Diamond Grips are the stickiest, tackiest, most grippy grips to ever be used for cross training. Made from a synthetic material, the Black Diamond Grips are great for Powder Coated bars and are versatile for other gymnastic and weightlifting movements. Unlike most grips on the market, Black Diamond Grips do not need chalk to stick to the bar. In fact, don't be surprised when they hardly even hold chalk if you were to try. That's part of the magic of the Black Diamond Grips.
Available only with 3 holes, the Black Diamond Grips come in Small thru Extra Large. With a reinforced neoprene layer on the wrist strap for increased comfort, Bear KompleX has successfully added to its product line of The Best Grips on the Planet!
Product description Black Diamond 3hole Grips Bear KompleX
As always, we protect the wrist from the buckle and use only the highest quality stitching to ensure they hold up.  Grab a pair today and don't worry the next time you see a new bar.
Manufactured from lightweight and sticky carbon fiber which feature a custom wrist strap which is designed for comfort and support positioned under the buckle. Bear KompleX Cross training grips will NOT dig into your wrist!

Protect your hands and palms during Pull ups, Chest to bar, Muscle ups, Toes to Bar (T2B), Knees to Elbow (K2E), Kettlebell swings, Power lifting, Power Cleans, Deadlifts, Snatches, Gymnastics, and more…

Durable triple stitching will ensure full support and stability when using the Bear KompleX gymnastics grips. You shouldn't have to worry about your hands when dominating your Cross training WOD!

Our superior carbon fiber product will protect your hands and mold to fit the bar you are holding. Be sure to protect your hands during your Cross training WOD to maximize your output.

Reduce slipping on the bar and keep banging out those pull-ups. Great for the Speal bar too!
DO NOT use or chalk these grips until you ensure the grips are the correct size.  Sizing is approximate and often times a personal preference, so please keep in mind that you cannot return the grips once they have been used.  Place your middle and ring finger into the holes and adjust the hook and loop strap comfortably around your wrist.  You should be able to nearly open your hand fully so the leather lies flat in your hand.
SIZING GUIDE:
1.  Find your hand/wrist connection.  This is where your hand and wrist meet (you should see a creased line there).  This is the point to start measuring from.
2.  Be sure your hand and fingers are totally straight and flat.  DO NOT cup your hand or stretch your fingers backward.
3.  Measure from the wrist/hand connection (where you see the crease) to the base of your middle finger.  Be precise and don't round up or down.
***If between sizes, go up to next size***
*** The grips will stretch slightly***
WARNING.  Hand Grips are NOT A TOY.  Any activity involving motion or height creates the possibility of serious injury or even death.  This equipment should be used for its intended use only.  Before using, know your limitations and the limitations of this gear.  Always inspect for damage and test stability before each use and inspect to make sure all parts are secure before each use.  If unsure of the proper use of this equipment seek supervision by a trained specialist.